A Hero's Armor is Always Crimson
英雄の鎧は常に紅く
eiyuu no yoroi wa tsuneni akaku
"The Daughter of Red"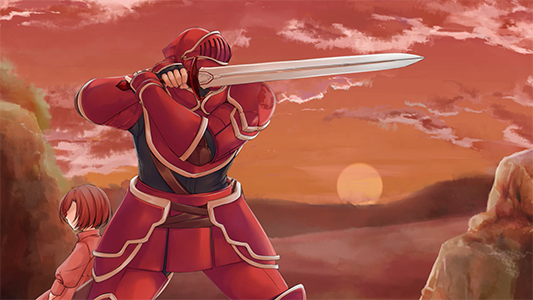 "That is surely the color of the spilled blood he basked in."
The story of Leonhart's life as a soldier and his adoption of Germaine.
Versions
Original: The original version of the song uploaded to niconico and YouTube on August 8, 2016, and later featured on Lucifenia Trinity.
Instrumental: An instrumental of the original featured on Lucifenia Trinity.
Notes
The PV was illustrated by Ichika.
The song's English title references the names of The Daughter of Evil and The Daughter of White.
The niconico and YouTube uploads are described as "The head of the Daughter of Evil's royal guard, Leonhart. Once, he was one of the Three Heroes serving under the great king."