Fifth Pierrot
五番目のピエロ
gobanme no PIERO
"The End of Hänsel"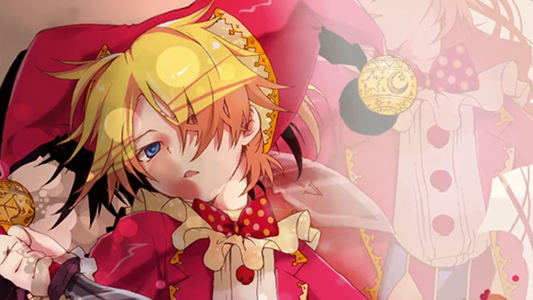 "And the black goes to red."
The story of Lemy Abelard working as Fifth Pierrot to punish bad people on Miss Santa's orders.
Notes
The PV was illustrated by Hekicha.
This song represents Sloth in the Deadly Sins of Evil series as the response song to gift from the Princess who Brought Sleep.
The numbers for each of Pere Noel's members corresponds with the order the VOCALOIDs were released – MEIKO (1), KAITO (2), Hatsune Miku (3), Kagamine Rin & Len (4 & 5), Camui Gackpo (6), Megurine Luka (7), and GUMI (8).
Camui Gackpo was previously listed as doing chores in the credits for the Evil Food Eater Conchita PV.
The niconico upload is described as "Lemy, a boy living in an orphanage in Rolled, the Republic of Lucifenia, is adopted by the millionaire Julia. Julia, whose other identity is the leader of the crime syndicate 'Pere Noel', brainwashes him, and Lemy now devotes himself each night to his assassinations as 'Fifth Clown'…"
mothy's official playlist lists the song as occuring in EC 610 and is described as "The Rolled Serial Killings."