Capriccio Farce
茶番カプリシオ
chaban KAPURISHIO
"Clockwork Lullaby 6"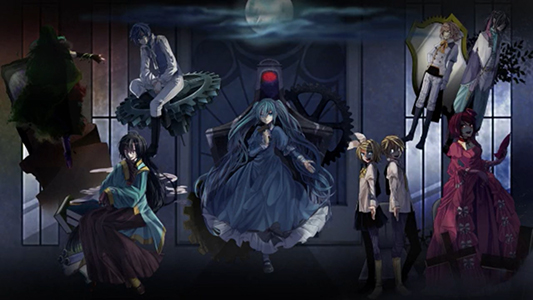 "Come, let's begin this farce called a trial."
The story of a trial held by the inhabitants of EVILS THEATER.
Versions
Original: The original version of the song released on EVILS COURT and later uploaded to niconico on October 29, 2011.
Instrumental: An instrumental of the original linked from its niconico upload.
Clockwork Lullaby version: A version with new vocals and instrumentals featured on Clockwork Lullaby. It was later updated with an HD version of the original PV to YouTube on August 22, 2020.
Notes
The PV was illustrated by Ui.
As the sixth song in the Clockwork Lullaby series, it is preceeded by Chrono Story and succeeded by Seven Crimes and Punishments.
The lyrics of Wordplay, Clockwork Lullaby, and Heartbeat Clocktower are referenced.
Camui Gackpo was previously listed as doing chores in the credits of Evil Food Eater Conchita, and another Gackpo character was likewise listed as such in Fifth Pierrot.
The PV is a reference to the Ace Attorney series. The PV also references the PV of Clockwork Lullaby.
Irregular's appearance in the song matches the description of the boy in Re_birthday.
The niconico upload is described as "A theater built in the Millennium Tree Forest. The make-believe trial begins there."
mothy's official playlist lists the song as occuring in EC 998 and describes it as "One year before ta eschata".
The song's gear connects to the "NO GOD" black box and Banica Concerto!!.