Waltz of the Deceased
去り人達のワルツ
saribito-tachi no WARUTSU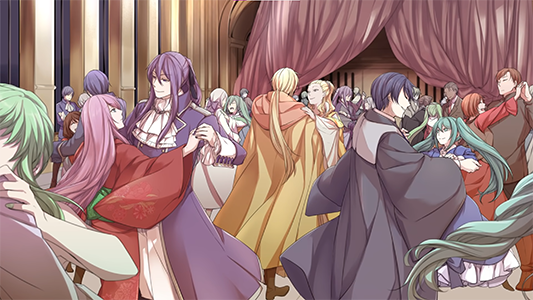 "Tonight is a celebratory banquet."
A song about the inhabitants of the world after its end.
Notes
It was announced during the Project Sekai Wondershow Channel 14 livestream that the song takes place after master of the heavenly yard.
In an official comment about the song's release, mothy stated that the themes of the song were "the story after the story" and "a fun yet disturbing banquet".
mothy tweeted out the lyrics to the game size version of the song after it was released in Project Sekai: Colorful Stage! feat. Hatsune Miku. These lyrics mistakenly used the word 庶民

shomin

instead of 諸侯

shokou

in the first verse.
The lyrics reference mothy's stories Unlock City and Story of Evil, which both take place in the Fourth Period.
mothy noted that since the four primary Rin & Len characters featured in the series were on the moon and in the movie theater respectively, he chose Rin Chan to be featured instead.
mothy selected the characters featured in the PV besides the ones mentioned in the songs' lyrics, and specifically ended up listing characters who should not be featured in the venue.