Song of the Cowardly Black Bird
臆病な黒鳥の唄
okubyouna kuro tori no uta
"Black Bird"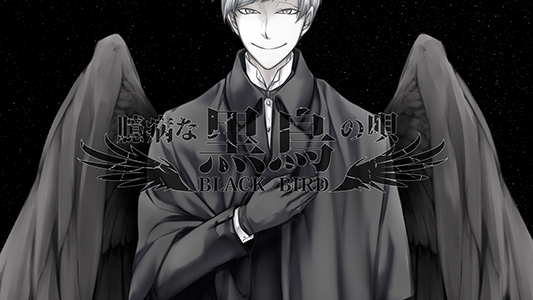 "Now is the time to fly into the sky."
A song about Lich Arklow.
Versions
Original: The original version of the song released on E.A.T PROLOGUE. Its PV was uploaded to niconico and YouTube on March 29, 2021.
Instrumental: An instrumental of the original released on E.A.T PROLOGUE.
Notes
The PV was illustrated by Ichika.
The song's title references the short story Song of the Black Bird.
The names that flash at the beginning of the PV are Lich Arklow, Banica Conchita, Arte-Gretel, Pollo-Hänsel, Eater Sabella, Balm Kulen, Ron Grapple, Mister Dog, and Seth Twiright; the names that flash in the middle of the PV are Lich Arklow, Vlad Tuberci, Levia Barisol, Behemo Barisol, Marie Annette, Eater Sabella, Held Yggdra, Salem Dunbar, Seth Twiright, Luna Hazuki, Gilles Derais, Rahab Barisol, Michael Arklow, Gumillia Matsumoto, and Catherine Derais.