Twin Rabbits Come and Play their Flute
双兎が来りて笛を吹く
sou usagi ga kirite fue wo fuku
"Rabbit Rampage"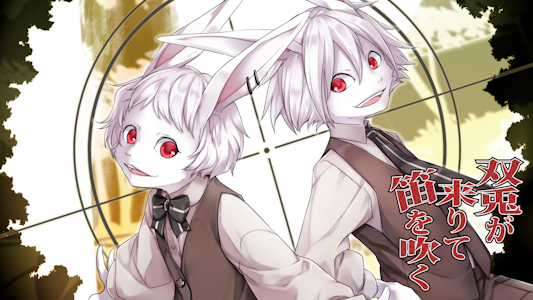 "All are enticed by the timbre of the flute, and so tonight as well we've got a full house."
The story of Arte and Pollo working at Conchita's restaurant.
Notes
The song references the lyrics of Tale of Abandonment on a Moonlit Night and Red Shoe Parade.
The PV's background illustrations are aesthetically similar to those in Tale of Abandonment on a Moonlit Night.
The bat featured in the PV during the guitar solo and the credits is art of Sickle that mothy uses as his Twitter icon.
Arte and Pollo's names in the credits of the PV are listed as Arte Ente Conchita and Pollo Gnese Conchita; their middle names combined with their first names form puns for "Al Dente" and "Bolognese".
The PV identifies the current world Conchita and her friends are in as the "Curse and Blessing World"; mothy previously stated that this world was the setting of The Steel Lady, Rilia-Renée.
The PV also identifies the original Third Period that Conchita and her friends originated from as being the "Crime and Punishment World".