EVILS THEATER

IBIRUZU · SHIATAA
AKNP-0001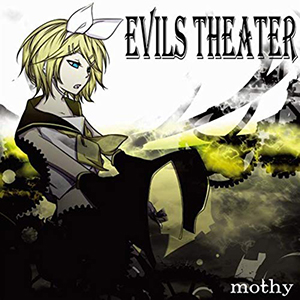 "A song and a story that begins to turn."
mothy's first album featuring remasters of his first 11 songs released on May 17, 2009. The album is licensed through KARENT and is available on Apple Music, Amazon, and Spotify.
Notes
The album was illustrated by Ichika.
The album jacket features Kagamine Rin & Len's VOCALOID2 modules.
The lyrics pages feature alternate English titles for each song.
The beginning of the booklet features a piece of prose about a theater.
The ending of the booklet lists the Latin names for the seven deadly sins, with "superbia" (pride) and "gula" (gluttony) highlighted in red.