Four Melodies of Evil ~The Daughter of Evil Novel Music Collection~
悪ノ四楽奏~悪ノ娘ノベル楽曲集~
aku NO yon rakusou ~aku NO musume NOBERU gakkyoku shuu~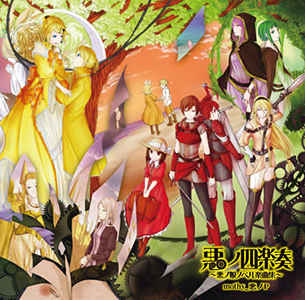 An album of songs associated with the Daughter of Evil novel series released as a promotional campaign. Its release campaign began on March 23, 2012, and the album is currently unavailable.
Notes
The album was illustrated by Ichika.
Each of the songs on the album were featured in their respective novel's trailer, although Clôture of Yellow's trailer featured versions of The Daughter of Evil and The Servant of Evil with vocals.