Judgment of Corruption ~a court of greed~
悪徳のジャッジメント~a court of greed~
akutoku no JAJJIMENTO ~a court of greed~
AKNP-0004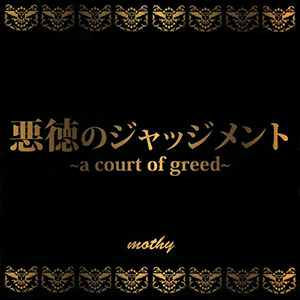 "Money is the best lawyer in Hell."
mothy's sixth album centered on the song Judgment of Corruption alongside other songs released elsewhere since EVILS FOREST. The album was released on January 16, 2011, and is currently unavailable.
Notes
The emblems featured in the album were designed by mothy.
Like how prelude to forest served as a prelude to EVILS FOREST, this album serves as a prelude to mothy's subsequent EVILS COURT.
The lyrics pages feature the emblems of countries political alliance.
The back of the album features short prose about Gallerian's relation to "Ma".